This past weekend was a weekend of celebration! From Thursday until today we have been in party mode - celebrating my husband turning 29 years old! We both took today off from work and enjoyed the most beautiful day - sun and clear blue skies!
Happy Birthday to you, my loving, amazing, hilarious J boy! You rock my world and make life more fun just by being in it and being you. May the year to come be a fabulous one - full of good health, happy memories and laughter! I love you!
Linking up with Helene for Travel Tuesday's!
Cannon Beach Oregon is one of my favorite places to visit! Growing up my family went there every single summer for long beach weekends away. We started out by staying in a hotel and then as my brother and I got older we started camping down by the ocean.
When John and I started dating I took him to this special place. We had the best time and could not wait to come back. When we returned the following summer John proposed and we celebrated our weekend as an engaged couple!
On the drive to Manzanita (right outside of Cannon Beach) you drive through these cliffs and when you approach this lookout point you know you are close. To this day seeing this view makes me smile - it reminds me of so many car rides to the beach, where life is easier and happier. Once we saw this sight we knew we were close and were about to unload our car and start our vacation!
Cannon Beach not only has a special in my place in my heart for the memories my family had here - but now as the place I was engaged at! So much happy surrounds this place and I am thankful for the memories that have been created there.
I am also linking up with Tiffany and Lauren today for Tuesday Topics - 8 favorite posts
(which I am just sharing a few of today)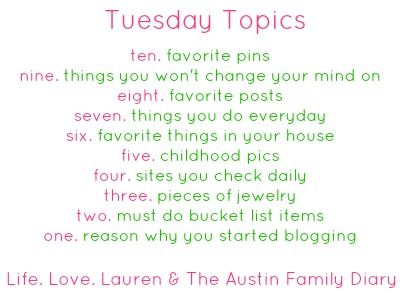 Looking back on some of my posts my favorites are:
One Year Anniversary
- pretty self explanatory!
A Little About Me
- I was a newbie to the blog world and shared a little about myself!
And then one of my favorite posts by Mama Laughlin is
Dear Big Girl,
which was so inspiring and motivating! She has some of the most encouraging posts!
__________________________________________________
Tomorrow I start the Advocare 20 Day Challenge! Wish we luck!