Here we are - week two of Thankful Thursday.
This week I am extremely Thankful for my family. My parents, brother and puppy KC make up the lovely "K" Family. I love my family more then anything - I would choose my family over anything and I value them with all of my heart. We have always been close, but as I get older I love my parents even more and my relationship with my brother gets stronger and stronger.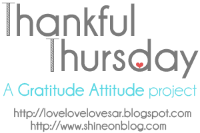 I am also thinking up for the weekend blog hop :) Come check it out!