First off, I finally shared this little blog space with my Mom! Welcome Mama Cindy to this sweet space of mine! My Mom is basically the world to me, the most wonderful and influential person in my life - my best friend! Welcome, welcome!
My weekend was relaxing - it has been raining like crazy lately and I had some amazing, much needed down time to sit around with a good book! Ladies, this book is a must read! I read the whole book over the weekend and was so sad when I finished it..
Also, Happy Tuesday Topics!

I am linking up with Tiffany and Lauren today to share "Six Memories"..


This was a really easy one for me - I am a memory freak - I love pictures, journals, invitations, home videos and every bit of reminiscing of the past to remember special moments..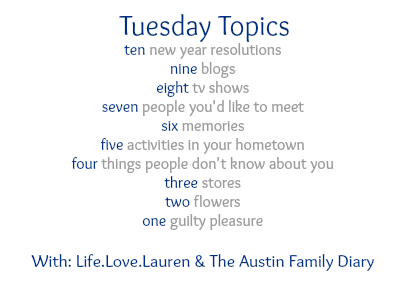 Obviously my wedding was a incredibly special memory that I will always hold close to me and keep high on my list of the happiest days of my life. 
In 2009 my family went on a cruise to Mexico. Our boat was the first ship out to sea after the huge Swine Flu outbreak - after a few to many drinks my brother and I thought the safety masks (that my dad packed for us) were the funniest things around! This trip was one of the best vacations my family had been on together.
When I was in high school and college I went to Tijuana, Mexico every summer to build houses. These mission trips were life changing and helped make me the person I am today.
My family is pretty freaking amazing. I am blessed to have the family that I do have. EVERY memory I have with them is memorable and puts a smile on my face!
High school was one of the most fun times of my life. I had the BEST high school experience and would go back and do it again in a heartbeat. Some amazing memories were when I was the mascot (so much fun!!!) senior year and swimming on the swim team all four years!
And another fun one to mention is college. So many random and crazy memories! An experience of a lifetime for sure..
Also linking up with: