January is always my month to be in a funk.


I am grumpy because I am often tired of being cold.


I am back at work from my holiday break.


I am tired and lack patience because I am working out.

And have often eliminated junk food from my diet.


Basically this ball of sunshine is just not pleasant to be around during January.
_________________________________
We got some snow last week, it was just a dusting but it looked so pretty in our yard and on the trees. I hate driving in the snow and just don't do it so I was very happy this snow didn't stick around.
I really liked this owl. No one understands. But I love him. Don't judge.
I love when my husband tells me he found something that reminded him of me/us. I have seen this quote many times, but the fact that he saw it and came home to show me made me smile.
Despite the freezing cold weather we have been having.. we somehow have had completely rain free weather which is uncommon this time of year. Usually we are fifty shades of grey all winter but I have seen the sun most of January so far!
I am running out of time tonight but wanted to link up with Lauren and Tiffany for Tuesday Topics! Sorry I did not post any cute pictures to go with this part of my post but here are some shows that I am loving right NOW. There are so many more I can list from my past that I still obsess about (Full House anyone) but I will just stick to the too many shows I am watching these days!
1. Real Housewives ANYTHING!
2. The Biggest Loser
3. The Bachelor
4. Army Wives
5. Gossip Girl
6. How I Met Your Mother
7. Guliana and Bill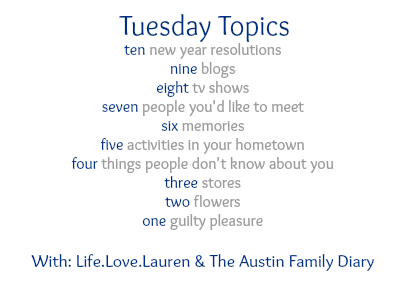 Again, sorry this post was all over the place! I have started this post over and over for a solid week now and just have not had a moment to finish it.