Today I am linking up with Holly and Melanie to share wedding details!
My 2nd anniversary is on Tuesday, so perfect timing to reflect on my wedding day.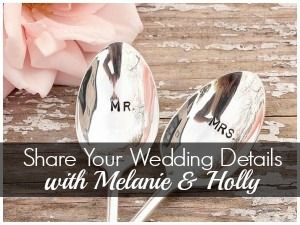 The Details: John and I got married at a renovated dairy farm - turned beautiful wedding venue on June 25, 2011 in a small town 45 minutes outside of Seattle. This venue was dependable for the unreliable weather Washington has by having a beautiful set up for an outdoor wedding and indoor facility as well for those just in case it rains moments. Getting married in June is extremely tricky in our state but I so desperately wanted my outdoor wedding. The day of the weather was looking pretty iffy but ended up clearing up to be the most gorgeous evening for our wedding.
Bridal Party: We had the most amazing bridal party - 5 girls and 5 guys a flower girl and ring bearer. Every person in our wedding party had a purpose in our lives and I love who was apart of our day. Siblings, cousins, old friends.. a great mix!

First Dance: You Are The Best Thing by Ray Lamontagne
Honeymoon:
Playa Del Carmen, Mexico. 8 days of tropical bliss - it was perfect!