Hope everyone is having a great weekend! It is Sunday Social time! Loved this weeks questions! Thanks for coming to my page - and thanks for the follow! I am loving all this new love my blog is getting, so much fun!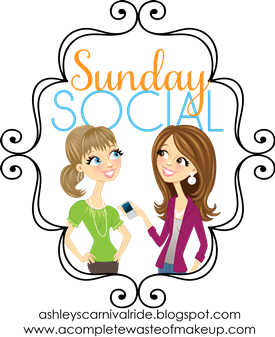 1.
What is your favorite store to shop at? I am a Nordstrom girl - my Mom worked there for 30 years and I was a Nordstrom baby and all of my clothes growing up were from there! My budget does not allow for shopping there as much as I would like so I consider myself to be a Kohl's, Target, Macy's and TJ Max girl! Victoria Secret Pink line is adorable and I tend to buy a lot of my lounging around the house clothes there!
2. If you could afford anything and everything, which designer brand would you covet? Coach! I love the quality of the brand and my Coach purses have always lasted so long! J Crew, Ann Taylor and Banana Republic... It would be so amazing to go in to those stores and to just buy - not look at the price tags!
3. Must-have closet staple? Cardigans.. I think I own a cardigan in every color of the rainbow BUT I feel they go with absolutely everything. I can wear them for basically any occasion too and I love that I can brighten a boring outfit with a bright cardigan! A little black dress, yoga pants and wedges are some must haves as well!
4. Favorite kind of shoes? Reef flip flops! I can wear flip flops all year long - in any weather! For running I wear Asics. I love heels but do not wear them enough - but I do love Steve Madden and Jessica Simpson heels!
5. Best clothing deal you have ever gotten (sale or amazing find)? Kohl's cash is amazing and I feel like I am always getting such amazing deals there. I had a 30% off coupon, the shirt I wanted was 40% off and I had $20.00 off in Kohl's cash and got the shirt for only $3.75 - that is the best deal I can think of that I recently got!
6. Style you'd love to try? Maxi dress - I would love this style to work for me but I do not think it is the most flattering look on me because I am so short. Pinterest is my style guru and I love finding new styles and looks to copy!