Happy Sunday! I hope everyone is enjoying their weekend. Today I am linking up with Ashley and Neely for their weekly Sunday Social!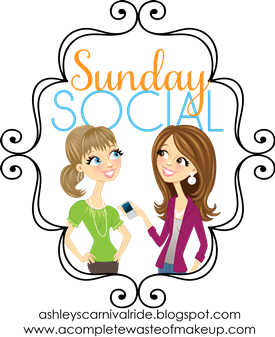 1. 5 items you can't live without on a daily basis (water, food, shelter, and clothes dont count)
Makeup, purfume, favorite ugg slippers, car/phone/tv/computer (I am counting this as one) and morning talk shows - 100.7 The Wolf to be exact!
2. All time favorite book? Why?
Does Babysitters Club count?? Because I owne the WHOLE series as a child and still have them all.. my future daughter better love them. As an adult I love anything Nora Roberts.
3. Something you'd like to accomplish by the end of 2012?
Finish my paralegal course and be a certified paralegal. Loose 40 pounds.
4. If you could go back and relive any year of your life which year would it be? 2006 - the year I graduated highschool. One of the best and happiest years of my life.
5. What do you wish people knew about you without you having to tell them? That I constantly struggle with pleasing people and making them happy before making myself happy. I put others before myself which has at times proven to be a bad thing because I never spend the time to focus on my own self worth.